Dr. Robert B. Klotz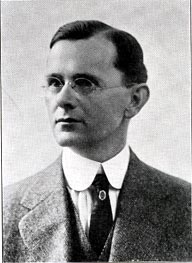 Dr. Klotz in 1917
Dr Robert B Klotz was born October 25, 1872 in Guthsville, Pa., the son of Jeremiah and Carolina (Seip) Klotz. He graduated from Jefferson College in Philadelphia in 1893. He practiced in Ohio for a year but his parents asked him to return home because of failing health. In 1894, he set up practice in Rittersville and was the first physician in the village. He married Elizabeth Rauch of Marysville, Ohio, in 1895, and they had a son, Paul.
Being the first physician in Rittersville meant that Dr. Klotz had a thriving practice, but beginning around 1903, he began to enter into real estate development. One of his first ventures into this field was as one of the promoters of Dixon Park, which is the area of Sherman St. that is south of Hanover Ave. He personally sold lots in this development.
Later he bought up various tracts to develop on his own. One of these, the 52 acres of the Frank Texter farm, which lay behind the Manhattan Hotel and ran north to just above present-day Union Blvd, he called Park Place. He personally supervised the grading and preparation of the streets and gave lots free to people if they promised to build on them.
This was only the beginning of Dr. Klotz's influence in the growth of Rittersville. It was he who brought Bethlehem city water to Rittersville and East Allentown in 1907 and 1908, respectively. As a school director he was the major impetus to get the two-story, four room Ritter school built on Tacoma St in 1907. He was also the driving force behind the establishing of Rittersville's first fire company in 1905, and in 1906 developed the first industry in Rittersville, the Klotz and Bregenzer silk ribbon mill.
In 1906, Dr. Klotz built a new residence, located two doors from his partner, Edwin Bregenzer, on Hanover Ave.
Over the next few years he purchased land from Jacob Saeger in East Allentown. This land was also cut into lots and 60 houses were built on it by 1912. It was Dr Klotz who was entirely responsible for the efforts in getting the silk mill built in East Allentown at the top of Carlisle St, which, by 1914, was the largest narrow ribbon plant in the world.
Dr Klotz was a member of the building committee for the new St Peter's Lutheran Church. The church was completed in 1914, and Dr Klotz and his wife donated the altar and the bell for the church.
By 1914, Dr Klotz, in conjunction with his firm of Klotz and Bregenzer, owned 208 acres of land that had yet to be developed.
He was the "father" of present day Union Blvd. In 1911, he opened the Allentown and Bethlehem Boulevard, the forerunner of Union Blvd, although it only extended a short distance at that time. He went on to continue to expand it and was instrumental in getting the Tilghman St bridge built which further spurred development of the east side of Allentown and Rittersville.
About 1917, he began development of the Rosemont section of Bethlehem and eventually built a residence there. In 1918, he and his partner sold the Klotz & Bregenzer mill to the John Ferguson Co of East Patterson, NJ. By 1929, Dr Klotz and his son had established a building supply business located at the end of the newly opened Plymouth St extension. It was the Hollywood Building Block Co. and it apparently lasted through the depths of the depression.
Here's what the 1917 book, Men of Allentown, had to say about Dr. Klotz: "It was largely through his progressiveness and indomitable force of character that the territory lying immediately east of the city has been developed to so great an extent."
Although biographical info about Dr Klotz, frequently includes the phrase "failing health" as a reason for his return to Rittersville from Ohio, and as a reason for giving up his medical practice, Dr Klotz lived until 1941, when he died just two months short of his 69th birthday.
©2005 Robert M Reinbold Jr